Have you ever felt nervous before introducing yourself during a job interview? Don't worry! Loker Bali has compiled a list of 9 tips to help you succeed in making introductions during a job interview. Take a look at the discussion below!
---
Brief greetings
When meeting a recruiter for the first time, make a good first impression by greeting them with a short greeting, such as "Good morning/afternoon/afternoon", followed by shaking the recruiter's hand.
Word articulation and clarity
In addition to body language, pay attention to the clarity of each word you say. Many people are unable to express their feelings clearly for a variety of reasons, including nervousness or a desire to finish quickly. Because of this nervousness, the sentence that comes out often stammers and sounds unpleasant to the ear. You can practice job interviews with your friends so that you appear more prepared when introducing yourself during a job interview later.
Controlling body language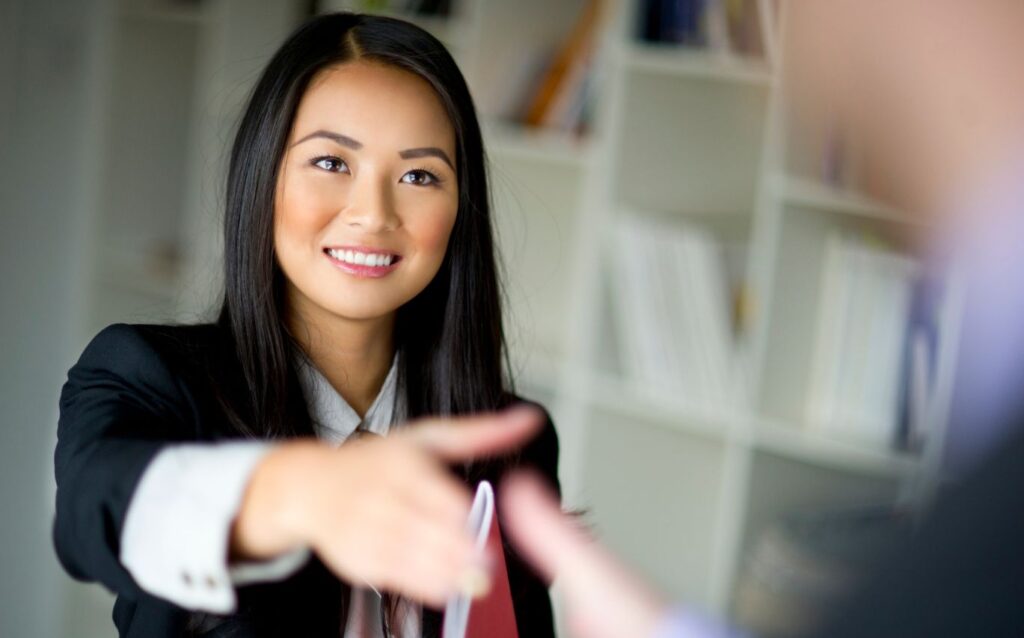 Being able to control your body language is an important skill when making introductions at a job interview. When communicating with recruiters, use professional body language. Professional body language can include making natural eye contact and a friendly smile, making firm movements and speaking in a normal tone (not too high and not too low).
Mention your full name and nickname
Before moving on to the next session of a job interview, you will usually be asked to say your name. Don't be nervous; instead, respond calmly by providing your full name, address, and job title. Examples:
"Hello! My name is (full name), and you can call me (nickname). I live in (address). I applied at this company as a (job position)."
Do you want to create an English CV?
Come translate it on Loker Bali!
Choosing the best time to introduce yourself in a conversation
When recruiters ask you to describe yourself, they don't want to hear about your favorite food or other matters. The purpose of this question is for them to briefly discuss your career path and work experience. To begin answering this question, you can start by determining where your career journey started. Examples:
"I have a bachelor's degree in communication science. Previously, I spent two years working as a social media content creator and copywriter for various companies. Then I...."
If you are a fresh graduate, you can answer it by:
"This year, I graduated from a film and television studies program. I chose this study program because I enjoyed the film and was fascinated by the filmmaking process. Furthermore, I believe that beginning a career in the film industry is both challenging and exciting."
Put manners first
Everything in a job interview, from body language to how you speak, should be polite. The way you walk into the room, shake the recruiter's hand, and are asked to sit is what draws the recruiter's attention.
In fact, during the self-introduction process, it can be confusing whether you should be calm or confident. However, what can cause problems is when the confidence is too high. Stay calm while feeling that this stage is something serious. You can convince the speaker later when you start introducing yourself.
Make yourself as comfortable as possible
It's critical to prepare for an interview by making yourself at ease. When meeting with recruiters, it is natural to feel nervous. Convince yourself that this job interview will go well in order to cultivate a sense of comfort.
Focus on achievements and experiences
Focus on your story during the self-introduction session at the job interview later on your experiences, accomplishments, and skills. Explaining these points will help recruiters feel more at ease. The key point is that all of these things must be relevant to the company and the position for which you are applying. If you are a recent graduate, you can describe your organization, education, or work experience (full-time/part-time) while you were in school.
Explain why you applied
You can explain your reasons for applying to the company to the recruiter during the closing session of your self-introduction during a job interview. Example:
"As a result, working as a (job position) in this company is a great opportunity for me to improve my skills and build a better future career."
Download Free CV Template by clicking the button below!
---
That concludes our list of 9 tips for introducing yourself at a job interview. Still not happy with your job interview preparations? Join us for a job interview coaching! Loker Bali has a team of professional mentors ready to help you succeed in your upcoming job interview. Please contact us for a free consultation!
-